Iron Sky: The Coming Race
Belgien / Deutschland / Finnland 2018
FSK: ab 12 Jahren
Länge: ca. 93 Min.
Vertrieb: Splendid Film
Filmzine-Review vom 08.10.2019
Mit Iron Sky -- Wir kommen in Frieden gelang dem finnischen Filmemacher Timo Vuorensola vor ein paar Jahren ein respektloses, überaus schräges Stück Sci-Fi-Trash rund um Nazis, die nach dem Ende des Zweiten Weltkriegs mit Ufos die dunkle Seite des Mondes besiedelt haben, um dann erneut nach der Weltherrschaft zu streben. Der fast schon unvermeidliche Nachklapp spinnt die dusselige Geschichte nun in Iron Sky: The Coming Race weiter.
Dank des aufgepeppten Budgets (per Crowdfunding) wirken die Spezialeffekte im Sequel deutlich ausgereifter, u.a. mit einer dreisten aber schicken Kopie des Millennium Falcon. Der professionellere Look kann aber nicht darüber hinwegtäuschen, dass der Ton der überspitzten, grellen Nazipersiflage mit Science-Fiction-Weltraumtrash-Ambitionen nur selten ins Schwarze trifft. Ob bewusst oder nicht bewusst, die schalen Gags animieren kaum zum Schmunzeln, auch wenn Udo Kier als Hitler (und dessen Bruder) auf dem Rücken eines T-Rex-Sauriers kein alltäglicher Anblick ist.
Über die Gaga-Story sollte man nicht zu viele Worte verlieren: Diesmal bricht die Wissenschaftlerin Obi Washington (Lara Rossi) im Jahr 2047 mit ihren unterbelichteten Mitstreitern vom Mond zu einer Expedition ins Erdinnere auf. Dort finden sie eine prähistorische Welt vor, in der die Vril leben -- reptilienartige Aliens, die sich als Menschen tarnen können, und in der Gestalt von Stalin, Putin, Caligula und anderen Herrschern seit Ewigkeiten die irdischen Weltregierungen kontrollieren. Ein Ende der Mondnazis ist noch längst nicht in Sicht: Derzeit dreht Vuorensola The Ark: An Iron Sky Story mit Andy Garcia und -- natürlich -- dem unverwüstlichen Udo Kier.
Blu-ray Extras:
Musikvideo "Coming Race" von Laibach
33 "Spoiler Alert!"-Episoden mit Regisseur Timo Vuorensola (92 min)
Trump-Teaser (2 min)
Behind-the-Scenes Slideshow (4 min)
VFX breakdown (5 min)
Trailer zu 8 weiteren Titeln
Wendecover
Marcs Filmwertung
Überdrehte Sci-Fi-Trash-Groteske mit ansehnlichen Schauwerten, aber wenig Witz.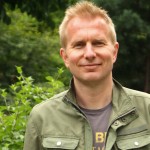 Leserwertung
[Gesamt:7 Durchschnitt: 2.3/5]
Trailer
Cast & Crew
Regie: Timo Vuorensola
Schauspieler: Julia Dietze, Kit Dale, Lara Rossi, Tom Green, Udo Kier, Vladimir Burlakov
Musik: Tuomas Kantelinen, Laibach
Produzent(en): Oliver Damian, Peter De Maegd, Tero Kaukomaa, Timo Vuorensola, Tom Hameeuw