The Outfit – Verbrechen nach Maß
The Outfit
USA 2022
FSK: ab 16 Jahren
Länge: ca. 105 Min.
Vertrieb: Universal Pictures Home Entertainment

Filmzine-Review vom 03.09.2022
Chicago in den 1950er Jahren. Der britische Konfektionsschneider Leonard Burling (Mark Rylance, Bridge of Spies) nimmt sein Handwerk sehr ernst und hat sich auch in der anspruchsvollen Mob-Szene einen Namen gemacht. Allerdings nicht nur als Virtuose mit Nadel und Faden, sondern auch als diskreter und zuverlässiger Mittelsmann, in dessen Hinterzimmer kleine und große Mafiosi ein- und ausgehen und geheimnisvolle Pakete hinterlegen und austauschen. Als Richie (Dylan O'Brien), der Sohn des Gangsterbosses Roy Boyle (Simon Russell Beale), eines abends angeschossen Zuflucht bei Burling sucht, werden der Schneider und seine Assistentin Mable (Zoey Deutch) tiefer in die kriminellen Machenschaften der Unterwelt hineingezogen, als ihnen lieb ist…
Für seine Nebenrolle in Brige of Spies gewann Mark Rylance 2016 den Oscar. In The Outfit kann er nun in der Hauptrolle unter Beweis stellen, dass er mit seinem äußerst präzisen und nuancierten Spiel zu den wohl am meisten unterschätzten Schauspielern Hollywoods gehört. Mit vollmundigen Vergleichen und großen Namen sollte man nicht unvorsichtig um sich werfen, aber in diesem Fall darf man durchaus annehmen, dass Hitchcock seine Freude an dieser hochgradig spannenden Inszenierung gehabt hätte (wenngleich sich dieser bei den Gewaltszenen deutlich mehr zurückgenommen hätte). In einem minimalistischen Setting – der ganze Film spielt komplett in den Räumlichkeiten der kleinen Schneiderei – entspinnt sich ein verzwicktes Kammerspiel, bei dem das tapfere Schneiderlein sich mit Eleganz und Eloquenz den mitunter rabiaten Gangstern widersetzt. Mit jedem cleveren Plot-Twist verdichtet sich die Erzählung, wobei die mysteriöse Kassette eines Lauschangriffs auf die Mob-Familie den hart umkämpften MacGuffin darstellt. Die Kameraarbeit erfolgt mit derselben Perfektion und Liebe zum Detail, wie sie auch der Konfektionsschneider bei seiner Arbeit walten lässt: Farben, Kostüme, Ausstattung – hier stimmt einfach alles.
Wie schade, dass das wunderschöne Retro-Filmplakat mit Hitchcock-Flair für den Heimkino-Release einem so einfallslosen und generischen BD-Cover weichen musste.
Blu-ray Extras:
Ninas Filmwertung
Minimalistisch inszeniertes, cleveres Kammerspiel mit einem großartigen Mark Rylance, das immer wieder neue Überraschungen bereithält.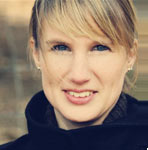 Leserwertung
Trailer
Cast & Crew