Shape of Water – Das Flüstern des Wassers
The Shape of Water
USA 2017
FSK: ab 16 Jahren
Länge: ca. 124 Min.
Vertrieb: Twentieth Century Fox Home Entertainment
Filmzine-Review vom 06.07.2018
Elisa (Sally Hawkins) und Zelda (Octavia Spencer) arbeiten nachts in der Putzkolonne einer Forschungseinrichtung. Dort wird eines Tages ein mysteriöses Wasserwesen aus dem Amazonas zu Versuchszwecken angeliefert. Die stumme Elisa ist fasziniert von der Kreatur und nähert sich ihr allmählich, so dass beide schließlich die Scheu voreinander überwinden und Vertrauen fassen. Dass ihr Amphibienfreund von den Wissenschaftlern, allen voran von Aufseher Strickland (Michael Shannon), immer wieder misshandelt wird, kann Elisa nicht ertragen und plant mit Zelda bei Nacht und Nebel eine tollkühne Befreiungsaktion…
Die Oscars 2018 für den besten Film und die beste Regie gingen an The Shape of Water. Auf den ersten Blick eine ungwöhnliche Wahl, denn Fantasy-Themen gehören nicht gerade zum Standardmaterial für die beiden wichtigsten Trophäen. Guillermo del Toro hat hier nach einem kurzen Abstecher ins Mainstream-Blockbuster-Genre (Pacific Rim) wieder zu seinen Wurzeln zurückgefunden und verzaubert sein Publikum ähnlich wie bei Pans Labyrinth mit visuellen Schauwerten und einer mystischen Geschichte. Seine in Aquatöne getauchte Fabel darf jedoch als Beitrag zum vorurteilsfreien, respektvollen Umgang mit Fremden verstanden werden und ist damit aktueller denn je. Dass der Film in der Zeit des Kalten Krieges spielt, ist wohl kein Zufall, war diese Ära doch die Hoch-Zeit der Monsterfilme und mysteriösen UFO-Sichtungen. In diesem so fantasievoll erzählten Märchen finden zwei einsame Seelen zueinander, die alle äußeren Unwegbarkeiten über Bord zu werfen bereit sind. Das führt mitunter zu recht komischen Situationen, bisweilen schwingt aber auch Melancholie mit. Die hierfür erforderliche Feinfühligkeit – noch dazu weil ihre Figur ohne Sprache auskommen muss – kombiniert Sally Hawkins (Happy-Go-Lucky) mit einer liebenswürdig naiven Verträumtheit. Für sie blieb es allerdings bei der vielversprechenden Nominierung.
Blu-ray Extras:
Ein Märchen für unruhige Zeiten (29 min)
Anatomie einer Szene: Prolog (3 min)
Anatomie einer Szene: Der Tanz (5 min)
Eine Unterhaltung mit James Jean (5 min)
Guillermo del Toro's Master-Class (13 min)
Original-Kinotrailer zum Film
Galerie
Ninas Filmwertung
Guillermo del Toro lässt uns eintauchen in eine fremde Fantasiewelt, in der Liebe keine Grenzen kennt.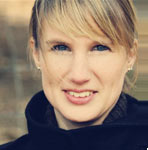 Leserwertung
Trailer
Cast & Crew