The Innkeepers – Hotel des Schreckens
The Innkeepers
USA 2011
FSK: ab 18 Jahren
Länge: ca. 101 Min.
Studio: Dark Sky Films
Vertrieb: Sunfilm Entertainment
Filmzine-Review vom 14.01.2013
Die Tage des Yankee Pedlar Inn sind gezählt, das letzte Wochenende vor der Schließung des alten Hotels steht bevor. Claire und Luke schmeißen die letzte Schicht an der Rezeption. Beide verbindet eine Faszination für das Okkulte, immer wieder vesuchen sie Kontakt zu dem Geist von Alice aufzunehmen, die in dem Hotel gestorben sein soll…
Schon mit seiner letzten Arbeit The House of the Devil legte Ti West einen eigenwilligen Okkult-Gruselthriller der etwas anderen Art vor. Während der Dreharbeiten nächtigte er im Yankee Pedlar Inn, um das sich zahlreiche Geistergeschichten ranken – Inspiration genug für The Innkeepers, ein ebenfalls verhältnismäßig subtiler Vertreter des Genres. Das Inn ist zwar nicht das Overlook Hotel aus The Shining, bietet aber dennoch eine stimmungsvolle Kulisse. Gut zwei Drittel der Laufzeit verwendet West auf den Aufbau der Atmosphäre, schildert die Langeweile der beiden Angestellten, denen jedes Mittel recht ist, um sich die Zeit zu vertreiben. Erst spät nimmt der Film dann etwas Fahrt auf, wobei die Schockmomente sparsam dosiert bleiben. Zugegebenermaßen ist es nicht einfach, einen Geisterfilm vernünftig enden zu lassen, doch das äußerst unbefriedigende Ende von The Innkeepers verdirbt leider etwas den sonst recht positiven Gesamteindruck.
Förderlich für die Atmosphäre beim Dreh dürfte gewesen sein, dass die gesamte Crew tatsächlich in diesem Hotel untergebracht war, wie man im Making of erfährt. Darüber hinaus werden gleich zwei Audiokommentare angeboten, einer mit dem Regisseur und dem Produzententeam und einer mit den Hauptdarstellern. Die FSK 18-Freigabe kann man wohl als Verkaufsstrategie deuten, das Siegel gab es nur für das Trailermaterial, der Film selbst ist ab 16.
Ninas Filmwertung
Old School-Grusel der zurückhaltenden Art.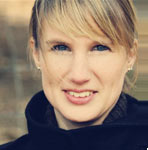 Leserwertung
Cast & Crew
Themen/Keywords
Mystery
Diese DVD/Blu-ray wurde uns vom Vertrieb Sunfilm Entertainment kostenlos zu Rezensionszwecken zur Verfügung gestellt. Unsere Bewertung ist davon jedoch nicht beeinflusst und gibt die unabhängige, persönliche Meinung des jeweiligen Rezensenten wieder.