Lava-Lava!
Frankreich 1994
FSK: ab 12 Jahren
Länge: ca. 48 Min.
Studio: EVA Entertainment | La Fabrique | Les Films du Triangle | Videal GmbH | Canal+
Vertrieb: Indigo
Filmzine-Review vom 29.06.2011
Wäre sie zehn bis fünfzehn Jahre später produziert worden, hätte Federico Vitalis anarchistisch-chaotische Trickserie Lava-Lava!, nicht zuletzt aufgrund der äußerst netzaffinen Laufzeit, locker das Zeug zur gehypten Webserie gehabt. Doch die französische Cartoon-Reihe, in der es inhaltlich meist um Mensch-Tier-Beziehungen geht, lief bereits Mitte der Neunziger im Fernsehen und schaffte es auf gerade mal 14 Episoden à 3 Minuten.

Größten Bekanntheitsgrad erreichte die Pilot-Folge \"What's up, Teddybear\", in der ein cholerischer Weihnachtsmann seine Rentiere durch die Nacht peitscht. Unterm Strich ein sehenswertes skurriles Kleinod, das in seinem Zeichenstil und auch mit seinem vordergründig derb-grotesken Humor hier und da an gute Walter Moers-Comics erinnert. Übrigens: Die überaus eingängliche Titelmelodie der Serie komponierte niemand geringerer als die kubanische Jazzgröße Arturo Sandoval.
Folgen
01. What's Up Teddy Bear

02. Shut Up Mutt!!

03. To Be Or Not Toby

04. Rock Around The Frock

05. Much a Quack About Nothing

06. Time After Chime

07. Un Oeuf Is Enough

08. Strangers In The Night

09. Pull Me Up! Pull Me Down!

10. Who's Afraid Of The Big Baaaa Wolf?

11. Houston? We Have A Problem!

12. Bingo! Bongo! I Don't Want To Leave The Congo

13. Sick As A Dog

14. Total Eclipse
Mikes Filmwertung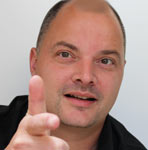 Leserwertung
Cast & Crew
Themen/Keywords
Zeichentrick
Diese DVD/Blu-ray wurde uns vom Vertrieb Indigo kostenlos zu Rezensionszwecken zur Verfügung gestellt. Unsere Bewertung ist davon jedoch nicht beeinflusst und gibt die unabhängige, persönliche Meinung des jeweiligen Rezensenten wieder.