Mr Sloane
Großbritannien 2014
FSK: ab 12 Jahren
Länge: ca. 154 Min.
Studio: Big Talk Productions | BBC
Vertrieb: Polyband
Filmzine-Review vom 25.01.2018
Watford, England in den späten Sechzigern. Mr. Sloane (Nick Frost) scheint am Tiefpunkt seines unspektakulären Lebens angekommen. Eine auf Eis gelegte Ehe (Gattin Olivia Coleman), eine verbockte Karriere und fragwürdige Kumpel (u.a. Peter Serafinowicz) bilden die bedrückende Ausgangslage dieser überaus liebenswerten kleinen britischen Comedyserie.
Man braucht dabei kein ausgewiesener Nick Frost-Fan zu sein, um sich von der bittersüßen Magie seiner Figur Sloane (…that's Sloane with an 'e'!) verzaubern zu lassen. Mit subtilem und intelligentem Humor zeichnet die Serie von Robert B. Weide (u.a. Lass es, Larry!, vielleicht besser bekannt unter dem Originaltitel Curb Your Enthusiasm) nicht nur ein einprägsames Stimmungsbild, das sich schon fast wie ein Zeitdokument anfühlt, sondern haucht ihm außerdem mit liebevoll gezeichneten, schrägen Charakteren ein außergewöhnlich berührendes und gleichzeitig unterhaltsames Leben ein.

Man sollte sich also nicht vom angestaubten Äußeren des Settings täuschen lassen. Alleine der brillant agierende Nick Frost zeigt Seiten seines Könnens, die man von ihm selbst in der Cornetto-Trilogie (u.a. Shaun of the Dead) oder auch in Spaced an der Seite von Buddy Simon Pegg so noch nicht erleben durfte. Ein tolles Drehbuch, die stimmige Cast und stilvolle Aufnahmen komplettieren dieses Geheimtipp-Serien-Kleinod aus dem Jahr 2014, das nach nur einer Staffel und sechs Folgen beendet wurde.
Mikes Filmwertung
Nick Frost kann auch ohne Simon Pegg: Eine Perle des britischen Humors mit liebevoll gezeichneten, schrägen Charakteren.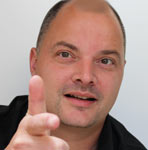 Leserwertung
Trailer
Cast & Crew