Monty Python – Not The Messiah (He's a Very Naughty Boy)
GB 2010
FSK: ab 6 Jahren
Länge: ca. 88 Min.
Studio: Monty Python Pictures
Vertrieb: Sony Pictures Home Entertainment
Filmzine-Review vom 31.05.2010
Basierend auf der Idee, die Geschichte von Monty Python's Life of Brian für Chor und Orchester umzusetzen, entwickelten Eric Idle und Komponist John Du Prez, die ja bereits mit Spamalot große Erfolge feiern durften, ein ebenso fulminantes wie amüsantes Das Leben des Brian-Oratorium. Anlässlich des 40. Python-Jubiläums wurde Not the Messiah (He's a Very Naughty Boy) 2007 in der altehrwürdigen Royal Albert Hall in London aufgeführt und mitgeschnitten.

Initiator Eric Idle gelingt damit ein kleines Meisterwerk. Die knallharte Kombination aus klassischem Sinfonieorchester-Bombast (u.a. basierend auf Händels "Messias"), vier erstklassigen Gesangs-Solisten, einem nicht minder beeindruckenden Chor und scharfem Monty Python-Humor entwickelt eine teils urkomische, teils bitterböse, immer aber mitreißende musikalische Odyssee durch die Wirren von Religion und Gesellschaft. Für Fans der britischen Ausnahmekomiker ein zweifelsfreies Must-See-Event, nicht zuletzt, da sich selbst Michael Palin, Terry Jones und sogar Terry Gilliam auf der Bühne sehen und hören lassen.
Mikes Filmwertung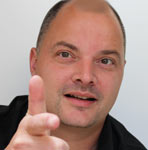 Leserwertung
Cast & Crew
Diese DVD/Blu-ray wurde uns vom Vertrieb Sony Pictures HE kostenlos zu Rezensionszwecken zur Verfügung gestellt. Unsere Bewertung ist davon jedoch nicht beeinflusst und gibt die unabhängige, persönliche Meinung des jeweiligen Rezensenten wieder.