Puschel, das Eichhorn (DVD 5)
Seton Dôbutsuki Risu no banner
Japan | D 1979
FSK: ohne Altersbegrenzung
Länge: ca. 111 Min.
Studio: ZDF | Nippon Animation
Vertrieb: MORE music and media
Filmzine-Review vom 08.11.2004
>> Zur DVD 1 mit Review zur Serie.
Folgen
Folge 22: Eine Reise mit Hindernissen

Folge 23: Die Suche geht weiter

Folge 24: Allein in einer großen Stadt

Folge 25: Schneesturm in der Wolfsschlucht

Folge 26: Wo die Hochzeitsglocken läuten
Mikes Filmwertung
Sympathische Kindertrickserie im Geiste von naturnahen Abenteuern wie Nils Holgersson oder Biene Maja.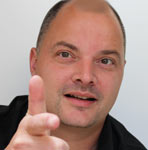 Leserwertung
Cast & Crew
Diese DVD/Blu-ray wurde uns vom Vertrieb MORE music and media kostenlos zu Rezensionszwecken zur Verfügung gestellt. Unsere Bewertung ist davon jedoch nicht beeinflusst und gibt die unabhängige, persönliche Meinung des jeweiligen Rezensenten wieder.