Ramones – End of the Century
USA 2003
FSK: ohne Altersbegrenzung
Länge: ca. 147 Min.
Studio: Chinagraph | Cugat Films
Vertrieb: Warner Music Vision
Filmzine-Review vom 24.04.2005
Nachfolgende Rezension stammt aus der Feder des Labels, auf dem End Of The Century: The Story Of The Ramones erschienen ist. Die Review des Redakteurs trifft nicht nur den Nagel auf den Kopf, sondern auch noch genau den richtigen Ton, weshalb wir uns in diesem Fall dazu entschieden haben, den Text statt einer eigenen Besprechung ungekürzt in unsere Datenbank aufzunehmen.

"Sie waren Konzept-Künstler ohne Konzept. Doch auch wenn sie womöglich nicht genau wussten, was sie da taten – das was sie taten, hat die Geschichte des Rock'n'Roll in alle Ewigkeit geprägt, wie sonst vielleicht nur noch Elvis, die Beatles oder die Stones. Wobei die Ironie ihrer Geschichte darin liegt, dass diese Altvorderen damals natürlich auf dem Index standen, als Johnny, Joey, Dee Dee und Tommy oder kurz The Ramones einfach mal eben den Punk erfanden…

Vom ersten Auftritt 1974 vor fünf ungläubigen Zuschauern im kleinen CBGB's auf der New Yorker Bowery bis zum letzten 22 Jahre später vor großem Open-Air-Publikum in Hollywood und der Aufnahme in die Rock 'n' Roll Hall of Fame 2002, die Joey – im Jahr zuvor mit 49 dem Krebs erlegen – nicht mehr erleben durfte: der Film The End Of The Century erzählt die immer noch ziemlich unglaubliche Geschichte der Ramones schön, aber nie beschönigend, klar, doch nie verklärend, schnell, aber nie so schnell, wie seine Protagonisten zu spielen in der Lage waren. Ihr wisst schon: 28 Songs in 50 Minuten. 1-2-3-4….

Dieser Film lässt wirklich keine Fragen offen, alles was man schon immer über die Ramones wissen oder nicht wissen wollte, wird in diesem großartigen Bandportrait beleuchtet. Neben unzähligen Live-Mitschnitten liegt der Focus vor allem auf den vorher nie gesehenen Interviews mit allen Original-Bandmitgliedern sowie verschiedenen Wegbegleitern der Band und Größen aus der Rock & Punk-Szene der vergangen 30 Jahre. Zu Wort melden sich z.B.: Johnny, Joey, Dee Dee und Tommy Ramone, Joe Strummer (The Clash), Debbie Harris (Blondie), Kirk Hammet (Metallica), Eddie Vedder (Pearl Jam) und viele weitere Zeitzeugen, die nicht mit ihrem Insiderwissen über die Ramones geizen."
Mikes Filmwertung
Für Ramones-Fans und Punk-Nostalgiker neben der bereits erschienen Doku We're outta here ein unverzichtbares Stück Zeitgeschichte.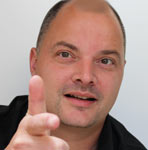 Leserwertung
Cast & Crew
Diese DVD/Blu-ray wurde uns vom Vertrieb Warner Music Vision kostenlos zu Rezensionszwecken zur Verfügung gestellt. Unsere Bewertung ist davon jedoch nicht beeinflusst und gibt die unabhängige, persönliche Meinung des jeweiligen Rezensenten wieder.