The Cabin in the Woods
USA 2012
FSK: ab 16 Jahren
Länge: ca. 95 Min.
Studio: Lion's Gate Films
Vertrieb: Universum Film
Filmzine-Review vom 27.02.2013
Fünf Freunde wollen übers Wochenende in einer abgelegenen Waldhütte so richtig entspannen und abschalten. Die Warnung eines skurrilen Tankwarts schlägt die Gruppe in den Wind. Keine gute Entscheidung…

Aus den abgestandenen Genre-Koordinaten Waldhütte/Wochenende/Studenten machen Regie-Debütant Drew Goddard und Avengers-Macher Joss Whedon doch tatsächlich den cleversten, verblüffendsten und unterhaltsamsten Horrorfilm der letzten Jahre. Je weniger man über den Story-Clou weiß, desto mehr Spaß macht The Cabin in the Woods. Nur soviel sei verraten: Was zunächst wie ein typischer Backwoods-Slasher im Stil von Tanz der Teufel oder Cabin Fever beginnt, entwickelt sich schon bald zu einem doppelbödigen, postmodernen Spiel mit den sattsam bekannten Genre-Konventionen. Dass The Cabin in the Woods schon 2009 fertig gestellt wurde und über drei Jahre auf einen Starttermin warten musste, ist ziemlich beschämend.

Die ungebremste Horrorfilm-Leidenschaft der beiden sympathischen Aficionados Drew Goddard und Joss Whedon schimmert in der Bonussektion in allen Features durch. Da aber an jeder Ecke ein dicker Spoiler wartet, sollte man die Extras erst anschauen, nachdem man den Film gesehen hat. Auch technisch ist alles top: Das Bild zeigt in den vielen Nacht-Szenen keinerlei Schwächen und die dynamische Tonabmischung setzt reihenweise hervorragende Surroundeffekte ein.
Marcs Filmwertung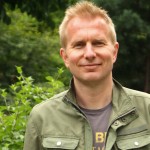 Leserwertung
[Gesamt:1 Durchschnitt: 4/5]
Cast & Crew
Themen/Keywords
Mystery