The Ledge – Am Abgrund
The Ledge
USA 2011
FSK: ab 12 Jahren
Länge: ca. 101 Min.
Studio: VIP Medienfonds | Foresight Unlimited
Vertrieb: Universum Film
Filmzine-Review vom 24.01.2012
Detective Hollis (Terrence Howard) hat soeben erfahren, dass er nicht der leibliche Vater seiner beiden Kinder ist. Ausgerechnet in diesem desolaten Zustand soll er Hotelmanager Gavin (Charlie Hunnam) davon abhalten, sich von einem Hochhaus in den Tod zu stürzen. Doch Gavin ist keinesfalls ein vermeintlicher Selbstmörder, denn irendwie ist auch die Hotelangestellte Shana (Liv Tyler) in die Geschichte involviert…

Nach drei Filmen in den 80ern wechselte Matthew Chapman von der Regie ins Drehbuchfach und konnte mit Ausnahme des Bruce Willis-Desasters Color of Night auch einige Erfolge (Das Urteil) verbuchen. Mit The Ledge – Am Abgrund feiert Chapman nun nach über 20 Jahren ein recht durchschnittliches Comeback als Regisseur. Zwischen konventionellem Eifersuchts-Thriller und religiösem Fanatismus-Drama findet The Ledge selten eine klare Linie und übertreibt es zuweilen mit schwerer Post-9/11-Symbolik. Darstellerisch bleiben Charlie Hunnam, der hier seine Sons Of Anarchy-Lederkutte gegen Anzug und Krawatte eintauscht und Liv Tyler blass, besser macht es hingegen Patrick Wilson als gehörnter Ehemann, der keinen Spaß mit dem Alten Testament versteht.

Die Extras dieser Videopremiere beschränken sich auf ausführliche Interviews mit dem Regisseur, Charlie Hunnam, Patrick Wilson sowie den beiden Produzenten Mark Damon und Michael Mailer.
Marcs Filmwertung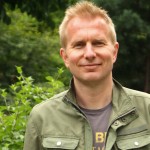 Leserwertung
[Gesamt:0 Durchschnitt: 0/5]
Cast & Crew
Diese DVD/Blu-ray wurde uns vom Vertrieb Universum Film kostenlos zu Rezensionszwecken zur Verfügung gestellt. Unsere Bewertung ist davon jedoch nicht beeinflusst und gibt die unabhängige, persönliche Meinung des jeweiligen Rezensenten wieder.