Children of Men (Special Edition – 2 DVDs)
GB 2006
FSK: ab 16 Jahren
Länge: ca. 105 Min.
Studio: Universal Pictures
Vertrieb: Universal
Filmzine-Review vom 26.04.2007
England im Jahr 2027: Während auf der ganzen Welt Kriege toben und die unfruchtbar gewordene Menschheit ihrem Ende entgegen taumelt, trauern die Briten um "Baby Diego", den jüngsten Menschen, der im Alter von 18 Jahren ermordet worden ist. Der Büroangestellte Theo (Clive Owen) scheint sich mit der harten Realität des Londoner Alltags – Terroranschläge und Festnahmen von illegalen Einwanderer sind an der Tagesordnung – arrangiert zu haben, bis er plötzlich von seiner polizeilich gesuchten Ex-Freundin (Julianne Moore) gebeten wird, die junge Einwanderin Kee (Claire-Hope Ashitey) an die sichere Küste zu bringen. Kees Geheimnis: Sie ist hochschwanger…

Mit Children of Men schuf der mexikanische Regisseur Alfonso Cuarón (Y tu Mamá también) einen der besten Filme des vergangenen Kinojahres. Die orwellsche Zukunftsvision reiht sich nahtlos in die Liste der Dystopie-Klassiker wie Blade Runner, Brazil oder 12 Monkeys ein. Cuarón gelingt es, in der Romanadaption der Krimi-Autorin P. D. James aktuelle Gegenwartskrisen (Terroranschläge, Fanatismus) fast schon beängstigend glaubhaft in die nahe Zukunft zu projizieren. Als Held wider Willen liefert Hauptdarsteller Clive Owen eine Glanzvorstellung ab. Seine Wandlung vom anfangs desillusionierten Zyniker zum entschlossenen Protagonisten ist in jeder Sekunde glaubhaft. Filmtechnisch bekommt das ganze durch den Verzicht hektischer Schnitte und die bewusst langen Einstellungen einen fast schon dokumentarischen Anstrich. Bei den nervenaufreibenden Actionszenen und Verfolgungsjagden sorgt hingegen eine zittrige Handkamera für unmittelbare Nähe am Geschehen. Dass Children of Men vom Kinopublikum eher gemieden wurde, muss nichts schlechtes bedeuten: Auch der bereits erwähnte Blade Runner war seinerzeit kommerziell ein Flop.

Der Bonus-Umfang der Doppel-DVD von Universal erscheint bei einer Laufzeit von unter einer Stunde zunächst etwas sparsam. Auf dem zweiten Blick entpuppen sich die Features aber fast durchweg als sehenswert und sind meilenweit vom oft üblichen PR-Gewäsch entfernt. Insbesondere die Haupt-Doku "Es bleibt Hoffnung", in der diverse Experten verschiedene Themenbereiche des Film diskutieren, ist ein Volltreffer.
Marcs Filmwertung
Furioser, apokalyptischer Zukunftsthriller allererster Güte.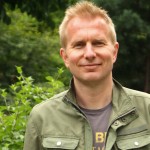 Leserwertung
Cast & Crew
Regie: Alfonso Cuarón
Schauspieler: Charlie Hunnam, Chiwetel Ejiofor, Claire-Hope Ashitey, Clive Owen, Danny Huston, Julianne Moore, Michael Caine, Peter Mullan
Musik: John Tavener
Produzent(en): Eric Newman, Hilary Shor, Ian Smith, Marc Abraham, Tony Smith