An American Werewolf in Paris (4K Remastered)
USA / Frankreich / Großbritannien / Niederlande 1997
FSK: ab 16 Jahren
Länge: ca. 97 Min.
Vertrieb: Turbine Medien
Filmzine-Review vom 15.05.2022
US-Touri Andy (Tom Everett Scott) und seine beiden Kumpels wollen Frankreich unsicher machen. Los geht's in Paris mit einem waghalsigen Bungee-Jump vom Eiffelturm, bei dem Andy der lebensmüden Serafine (Julie Delpy) das Leben rettet und sich prompt in die mysteriöse Schönheit verliebt. Was er und seine Begleiter nicht wissen: Sie ist die Tochter eines Werwolfs und verwandelt sich in Vollmondnächten ebenfalls in ein haariges Monster. Bei einer wilden Party macht die Gruppe dann Bekannschaft mit Werwölfen, die sich per Serum jederzeit verwandeln können…
15 Jahre nach nach dem Kultklassiker von John Landis versuchte sich Anthony Waller mit An American Werewolf in Paris an einer Fortsetzung. Das Erfolgsrezept des Originals – ein Mix aus Humor, großartigen Maskeneffekten und toller Atmosphäre – wurde zwar mehr oder weniger kopiert, doch das krude Resultat lässt dann doch ein wenig zu wünschen übrig. Besonders die im Vorgänger legendären praktischen Effekte bei den Verwandlungen werden schmerzlich vermisst, auch weil diese nun wenig überzeugend per Computer auf die Leinwand getrickst wurden. So sieht man den Werwölfen hier leider in jeder Szene ihren digitalen Ursprung an. Im Laufe der Zeit hat sich An American Werewolf in Paris dennoch eine durchaus treue Fangemeinschaft aufbauen können, was auch daran liegt, dass der Film einige originelle Drehbuchideen bereithält, etwa wenn die französische Werwolf-Meute die Collegeboys ausgerechnet am Unabhängigkeitstag attackiert. Darstellerisch werden hier mit Ausnahme von Julie Delpy keine Bäume ausgerissen. In einer Nebenrolle spielt Julie Bowen, die später in Modern Family zum Serienstar wurde, ein dümmliches Opfer.
Nachdem der Titel bereits Anfang des Jahres von Turbine Medien in herausragender UHD-Qualität als Mediabook veröffentlicht wurde, erscheint nun auch eine Blu-ray-only-Version in ausgezeichneter Bildqualität (4K Remastered). Neben der beeindruckenden Bonus-Sektion, u. a. mit Regie-Audiokommentar, alternativem "Werwolf-Baby-Ende" und einem ausführlichen Making of, bietet die Scheibe ein schickes Wendecover mit alternativem Motiv.
Blu-ray Extras:
Audiokommentar mit Regisseur Anthony Waller
Videokommentar mit Regisseur Anthony Waller
Alternative Filmfassung (Workprint) (99 min)
Alternatives Ende (3 min)
Making of (73 min)
Featurette (in dt. oder engl. Sprache) (27 min)
Interviews mit Cast & Crew (17 min)
Musikvideo "Mouth" von Bush & Making of (9 min)
4 Trailer zum Film (USA, UK, DE & F)
Wendecover mit alternativem Motiv
Marcs Filmwertung
Kein Vergleich zum Werwolf-Klassiker von John Landis, aber insgesamt ein durchaus sympathisches, leicht trashiges Sequel in schicker Aufmachung.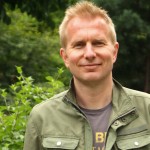 Leserwertung
Trailer
Cast & Crew