American Werewolf (Special Edition – 2 DVDs)
An American Werewolf in London
USA 1981
FSK: ab 16 Jahren
Länge: ca. 91 Min.
Studio: Universal Pictures
Vertrieb: Universal Home Entertainment
Filmzine-Review vom 13.11.2009
Die beiden jungen amerikanischen Rucksacktouristen David Kessler (David Naughton) und Jack Goodman (Griffin Dunne) werden auf ihrem Englandtrip von einem Werwolf angegriffen. Während Jack bei der Attacke stirbt, wird David schwerverletzt in ein Krankenhaus nach London verlegt. Dort kommt er dank der fürsorglichen Krankenschwester Alex (Jenny Agutter) wieder zu Kräften, doch beim nächsten Vollmond geschieht das Unfassbare – David mutiert zur blutrünstigen Bestie…

Im Gegensatz zum Vampir führt der Werwolf filmtechnisch betrachtet schon seit vielen Jahren ein Schattendasein. Richtig gute Werwolffilme sind abgesehen von einigen Ausnahmen eine Rarität und John Landis American Werewolf ist zusammen mit Neil Jordans Die Zeit der Wölfe mit Abstand der gelungenste Vertreter. Als zu Beginn der 80er Jahre das Horrorgenre hauptsächlich von irren Slashern und gefräßigen Zombies bevölkert war, nahm sich Landis mutig der längst vergessenen Wolfsmythologie an. Allerdings nicht ohne die klassische Thematik gehörig von allzu vertrauten Klischees zu entstauben. So halten sich bei American Werewolf grelle Gruselsequenzen und ungewohnt witzige Szenen die Waage. Der Humor des Films ist dabei stets dunkelschwarz, so zum Beispiel in der legendären Pornokinoszene, in der David auf seine (untoten) Opfer trifft und mit ihnen über die sicherste Selbstmordvariante diskutiert. Untrennbar mit der Klasse des Films verbunden ist sicherlich die Arbeit von Masken-Guru Rick Baker. Der brillante Tüftler (Planet der Affen) schuf mit geringem Budget größtmögliche (Schock)-Momente, die in der bis heute enorm wirkungsvollen Metamorphose des Hauptdarstellers zum Wolf gipfelt. Für diese Leistung erhielt Baker 1981 zu Recht den Oscar®. Regisseur John Landis hat mit American Werewolf hingegen den Zenit seiner Karriere erreicht, nach diversen Flops parkt der ehemalige Hitlieferant (Blues Brothers) heute auf Hollywoods Abstellgleisen.

Für die Neuauflage des Kultfilms spendierte Universal eine Bonus-DVD mit der sehenswerten Doku \"Beware of the Moon\" in Spielfilmlänge. Ansonsten hat sich im Vergleich zur \"20th Anniversary Special Edition\" nicht allzu viel verändert. Ärgerlich, dass im Vergleich zur parallel veröffentlichten Blu-ray die zweiminütige Telefonzellenszene fehlt.
Marcs Filmwertung
Effektiver Mix aus Gänsehaut und schwarzem Humor. Unbedingt bei Vollmond gucken.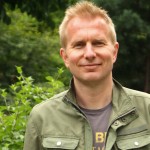 Leserwertung
Cast & Crew
Themen/Keywords
Kultfilm