Black Dahlia
The Black Dahlia
USA 2006
FSK: ab 16 Jahren
Länge: ca. 116 Min.
Studio: Warner Bros.
Vertrieb: Warner Home Video
Filmzine-Review vom 20.02.2007
Anfang 1947 wird das glücklose Starlet Elizabeth 'Betty' Short bestialisch in Los Angeles ermordet. Die 22-Jährige trug ein schwarzes Kleid und eine Blume im Haar und wurde daraufhin von der Sensationspresse The Black Dahlia getauft. Die beiden Cops Dwight "Bucky" Bleichert (Josh Hartnett) und Leland Blanchard (Aaron Eckhart) werden auf den Fall angesetzt…

Dass man die komplexen und komplizierten Crime Novels eines James Ellroy durchaus adäquat auf die Leinwand übertragen kann, ist spätestens seit L.A. Confidential bewiesen. Brian de Palmas The Black Dahlia kann sich mit diesem Meisterwerk leider nicht messen: Seine spannungsarme Umsetzung des berühmtem (bis heute ungeklärten) Mordfalls verliert sich in zahlreichen Nebenplots. Ein Fest für die Augen ist es trotzdem: Dafür sorgen allein schon das sorgfältig rekonstruierte Milieu mit schöner Film Noir-Atmosphäre und einige brillante Kamerafahrten.

Für Ellroy-Fans ist die DVD durchaus einen Blick wert: In dem Featurette "Reality & Fiction" spricht der Schriftsteller, dessen Mutter in den 50ern ebenfalls unter nie gekärten Umständen in L.A ermordet worden ist, offen über seine düsteren Obsessionen.
Marcs Filmwertung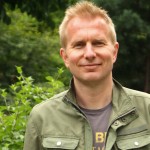 Leserwertung
Cast & Crew
Themen/Keywords
Film Noir, Literatur