Halloween Haunt
Haunt
USA 2019
FSK: ab 18 Jahren
Länge: ca. 92 Min.
Vertrieb: Splendid Film GmbH
Filmzine-Review vom 26.03.2020
Eigentlich hat Studentin Harper (Katie Stevens) wenig Lust, Halloween zu feiern, denn gerade erst hat Nochfreund Sam ihr ein blaues Auge verpasst. Roommate Bailey (Lauryn Alisa McClain) kann sie dann aber doch überzeugen. In einer Bar trifft Harper auf den netten Nathan (Will Brittain). Im Schlepptau mit weiteren Freunden beschließt man für den richtigen Halloween-Kick ein entlegenes "Haunted House" zu besuchen. Zunächst beschränkt sich das Gruselvergnügen auf gut geschminkte Schauspieler in Horror-Masken. Doch schnell gibt es in dem Spuk-Labyrinth die ersten Verletzten zu beklagen, während sich die Schaupieler als irre Killer entpuppen …
Nachdem die Drehbuchautoren Scott Beck und Bryan Woods mit A Quiet Place einen der erfolgreichsten Horror-Hits der jüngeren Vergangenheit landen konnten, geben die zwei nun mit Halloween Haunt ihr Regiedebut. Herausgekommen ist ein blutiger Slasher, der inhaltlich zwar deutlich weniger ambitioniert ist als Quiet Place, dafür aber dank schörkelloser Inszenierung, anständiger Produktionswerte und einer überwiegend kompetenten jungen Besetzung und einer toughen "Final Girl"-Performance einen sehr gelungenen Eindruck hinterlässt. Das derzeit beliebte Spukhaus/Geisterbahn-Szenario (Escape Room, Hell Fest), das es Anfang der 1980er-Jahre schon einmal gab (The Funhouse, Hell House), wird hier mit vielen heftigen Schockmomenten gekonnt variiert. Der Härtegrad erreicht dank diverser Folter-Fallen mühelos das Niveau von Saw, was aber auch nicht weiter verwundert, da Hostel-Macher und Gorehound Eli Roth als Produzent mit von der Partie ist.
Blu-ray Extras:
Behind the Haunt (5 min)
Making Of  (4 min)
The Sound of the Haunt (4 min)
Trailer zu 12 weiteren Titeln
Wendecover
Marcs Filmwertung
Schnörkellos inszenierter Spukhaus-Slasher, inhaltlich nicht besonders originell, aber mit vielen heftigen Schockmomenten.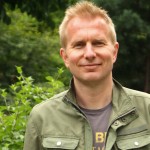 Leserwertung
Eure Leserwertung:
[Gesamt: 4 Durchschnitt: 3.8/5]
Trailer
Cast & Crew