Mrs. Taylor's Singing Club
Military Wives
GB 2019
FSK: ab 6 Jahren
Länge: ca. 113 Min.
Vertrieb: LEONINE
Filmzine-Review vom 20.02.2020
Ein Militärstützpunkt im ländlichen England. Als die Soldaten zum nächsten Einsatz in Afghanistan ausrücken müssen, stehen den zurückgebliebenen Familien schwere Wochen der Ungewissheit und Angst bevor. Gemeinsame Aktivitäten sollen für Ablenkung sorgen. Während die unkonventionelle Lisa (Sharon Horgan) findet, man könnte es doch bei Abhängen und Biertrinken belassen, schwebt der perfektionistischen Offiziersgattin Kate Taylor (Kristin Scott Thomas) eher ein minutiös durchgetakteter Veranstaltungskalender vor. Die Idee eines Chors stößt zunächst nur auf verhaltenes Interesse, doch allmählich entdecken die Frauen ihren Spaß am gemeinsamen Trällern – und auch einige Talente in den eigenen Reihen. Schon bald sollen sie die Gelegenheit bekommen, ihr Können einem größeren Publikum zu präsentieren…
1997 gelang Regisseur Peter Cattaneo mit The Full Monty – Ganz oder gar nicht ein veritabler Sleeper-Hit. Ähnliche Töne stimmt er nun in Mrs. Taylor's Singing Club an, wobei er dem Gemeinschaftsgefühl, mit dem das Chor-Projekt vorangetrieben wird, ebensoviel Platz einräumt, wie den persönlichen Schwierigkeiten einzelner Frauen. Kate hat den Tod ihres Sohnes noch nicht verwunden, der von einem der letzten Einsätze nicht zurückkehrte, Lisa findet keine Draht zu ihrer Teenager-Tochter. Und als eines Tages eine Limousine mit zwei schwarz bekleideten Offizieren durch die Siedlung rollt, um an einer Haustür die von allen gefürchtete Nachricht zu überbringen, wird es herzzerreißend traurig, ganz ohne Sentimentalität oder Kitsch. Die grundverschiedenen Chorleiterinnen werden von Kristin Scott Thomas und Sharon Horgan mit der angemessenen Mischung aus Augenzwinkern und Ernsthaftigkeit gespielt. Hoffentlich bekommen wir die aus der grandiosen Comedy-Serie Catastrophe bekannte Sharon Horgan in Zukunft häufiger zu sehen! Inspiriert wurde Singing Club von der BBC-Dokumentation The Choir: Military Wives über die inzwischen 75 Chöre, die auf britischen Armeestützpunkten gegründet wurden.
Blu-ray Extras:
Featurette: The Story (7 min)
Featurette: The Characters (8 min)
Behind the Scenes (17 min)
Trailer zu 6 weiteren Titeln
Wendecover
Ninas Filmwertung
Warmherzig erzähltes Feelgood-Movie im Stil von "Ganz oder gar nicht" und "Calendar Girls".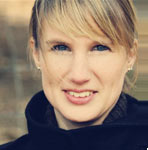 Leserwertung
Trailer
Cast & Crew