Bloodthirsty
Kanada 2020
FSK: ab 16 Jahren
Länge: ca. 85 Min.
Vertrieb: Al!ve AG
Filmzine-Review vom 21.12.2021
Indie-Sängerin Grey (Lauren Beatty) fällt nach ihrem erfolgreichen Debutalbum in ein kreatives Loch. Zudem leidet sie unter Halluzinationen und träumt immer wieder davon, als Wolf Beute zu reißen. Der berühmte Musikproduzent Vaughan (Greg Bryk), der im Verdacht steht, vor Jahren eine Sängerin getötet zu haben, soll sie wieder in die Spur bringen. Entgegen dem Wunsch ihrer Freundin Charlie (Katharine King So) nimmt Grey das Angebot des Produzenten an und zieht sich in dessen abgelegenes Studio zurück…
Der Werwolf-Mythos nimmt wieder Fahrt auf: Nachdem schon zuletzt in The Wolf of Snow Hollow und Werewolves Within ordentlich unterm Vollmond geheult wurde, steht mit Bloodthirsty nun ein weiterer Genre-Beitrag bereit. Regisseurin Amelia Moses setzt dabei auf eine moderne, weibliche Variante, die zunächst den Prozess des Songschreibens als zentrale Metapher einsetzt. Frei nach dem Motto: Nur wer auch Zähne zeigt und Blut leckt, kommt im Showbusiness wirklich weit. Der kanadischen Drehbuchautorin und Songwriterin Lowell Boland gelingt in diesem Zusammenhang das schwierige Kunststück, einerseits einen glaubwürdigen künstlerischen Prozess im Studio abzubilden und andererseits Songs zu präsentieren, die so klingen, als könnten sie Hits werden. So weit, so gut, leider vernachlässigt Bloodthirsty dem Titel zum Trotz die eher sparsam eingesetzten und angedeuteten Horror-Elemente. Erst im Schlussdrittel des Films werden die mörderischen Bestien von der Leine gelassen. Da hatte der ebenfalls aus Kanada stammende Werwolf-Beitrag Ginger Snaps – mittlerweile ein kleiner Kulfilm – ein "biss"chen mehr zu bieten.
Blu-ray Extras:
Dt. Trailer zum Film
Trailer zu 6 weiteren Titeln
Wendecover
Marcs Filmwertung
Interesseante Variante der Werwolf-Thematik mit sparsamen Horror-Elementen.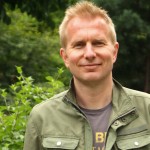 Leserwertung
Trailer
Cast & Crew