Humans – Die komplette Staffel 2
GB 2016
FSK: ab 16 Jahren
Länge: ca. 378 Min.
Studio: Matador Film, Endemol Shine Group
Vertrieb: Justbridge Entertainment GmbH
Filmzine-Review vom 12.06.2018
Auch bei TV-Serien schielen findige Produzenten mittlerweile gerne auf die europäische Konkurrenz und bereiten erfolgreiche Konzepte für den heimischen Markt neu auf. Das kann gut funtionieren (Kommissarin Lund – Das Verbrechen / The Killing) oder aber auch fürchterlich scheitern (The Returned). Humans, die britisch-amerikanische Adaption des inzwischen eingestellten schwedischen Originals Real Humans (Äkta människor) kommt in der zweiten Staffel der hohen Qualität der Vorlage deutlich näher als noch beim durchschnittlichen Auftakt.
Synth Niska (Emily Berrington), die den Schlüssel zum Bewusstsein der Synths in Form eines Codes in sich trägt, ist nach Berlin geflohen und gibt sich als Mensch aus. Als sie den Root Code per Upload zur Verfügung stellt, erwachen weltweit verhaltensauffällige Synths mit eigenem Bewusstsein. Die Wissenschaftlerin Athena Morrow (Carrie-Ann Moss) versucht diesem Rätsel auf die Spur zu kommen. Bei den Hawkins hängt derweil der Haussegen schief: Familienvater Joe (Tom Goodman-Hill) droht die Arbeitslosigkeit: seinen Job soll ein effizienter Synth übernehmen. Auch die Beziehung mit Ehefrau Laura (Katherine Parkinson) steht auf der Kippe. Während Mia/Anita (Gemma Chan) in einem Café arbeitet, verstecken sich Leo (Colin Morgan) und Max (Ivanno Jeremiah) in einer Küstenstadt.
Die insgesamt 8 neuen Folgen lösen sich im Handlungsverlauf deutlich vom Original, was der Serie insgesamt sehr gut tut. Prominentester Neuzugang ist Carrie-Ann Moss als KI-Forscherin Dr. Athena Morrow. Das Gesicht der Serie bleibt aber Gemma Chan in der Rolle des Vorzeige-Synths Mia. Während der große Bruder Westworld das Thema Künstliche Intelligenz und technologischer Fortschritt natürlich deutlich bombastischer verpackt und präsentiert, werden bei Humans kleinere Brötchen gebacken. Dank einer der Thematik angemessenen Komplexität werden Freunde anspruchsvoller Science Fiction jedoch bestens bedient.
Episoden:
01. Menschenrechte
02. Robotergesetze
03. Mensch-Maschine
04. Künstliche Gefühle
05. Gebrochene Herzen
06. Die Bestimmung
07. Aufstand der Maschinen
08. Neues Leben
Blu-ray Extras:
A Look at the Series  (3 min)
Greetings (1 min)
Making Humans (10 min)
New Characters (4 min)
Trailer zu 6 weiteren Titeln
Marcs Filmwertung
Auch ohne Westworld-Bombast ein durchaus spannendes Zukunftsszenario zum Thema Künstliche Intelligenz und technologischer Fortschritt.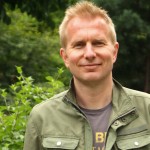 Leserwertung
Trailer
Cast & Crew
Regie: Carl Tibbetts, Francesca Gregorini, Lewis Arnold, Mark Brozel
Schauspieler: Carrie-Anne Moss, Colin Morgan, Emily Berrington, Gemma Chan, Ivanno Jeremiah, Katherine Parkinson, Lucy Carless, Neil Maskell, Sonya Cassidy, Tom Goodman-Hill, Will Tudor
Musik: Sarah Warne
Produzent(en): Paul Gilbert