Nanotechnologie – Die unsichtbare Revolution
Kanada | Frankreich 2011
FSK: Infoprogramm gemäß §14 JuSchG
Länge: ca. 150 Min.
Studio: ARTE France | Canadian Broadcasting Corporation | Docside Production | NHK
Vertrieb: Polyband
Filmzine-Review vom 17.07.2013
Kennen Sie die Maßeinheit für 10-9 oder 0,000.000.001 (also z.B. ein Milliardstel Meter)? Richtig, es ist ein Nano!
Zusammengefasst in einer dreiteiligen Dokumentationsreihe widmet sich die französische Produktion Nanotechnologie – Die unsichtbare Revolution nach Schwerpunkten getrennt den Bereichen Nano-Medizin (OT Welcome to Nano City), Nano-Nachhaltigkeit (OT Will Nano Save the Planet) sowie Nano-Alltagstechnologie (OT More Than Human).
Die insgesamt eher trockene Aufarbeitung des Themas wird immer wieder durch fiktionale Storyanteile gelockert. Neben zahlreichen Interview-Partnern aus Forschung, Natur- und Geisteswissenschaft führt eine unauffällige Erzählerin durch den facettenreichen Komplex, der auch visuell angemessen, aber nicht brillant auf Blu-ray umgesetzt wurde.
Die verheißungsvolle Technologie mit ihren schier unbegrenzten Möglichkeiten wird dabei auch kritisch betrachtet und auf mögliche Risiken (Gesundheitsgefahren, sonstige Spätfolgen, ökologische Auswirkungen) untersucht, doch unter dem Strich vermittelt die Dokumentation einen recht Nano-freundlichen Blick auf eine Industrie, die immer stärker in unseren Lebensalltag drängt, bietet aber dennoch eine gute Basis, um sich über den aktuellen Stand der Entwicklung umfassend zu informieren.
Mikes Filmwertung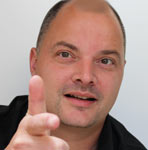 Leserwertung
Diese DVD/Blu-ray wurde uns vom Vertrieb polyband kostenlos zu Rezensionszwecken zur Verfügung gestellt. Unsere Bewertung ist davon jedoch nicht beeinflusst und gibt die unabhängige, persönliche Meinung des jeweiligen Rezensenten wieder.