Power! Percussion – Eine unglaubliche Begegnung der rhythmischen Art
D 2009
FSK: ohne Altersbegrenzung
Länge: ca. 95 Min.
Studio: Soul Slide Media
Vertrieb: Point Music
Filmzine-Review vom 17.10.2009
Vom Marimbaphon bis zur Mülltonne bearbeiten die Drummer der Power! Percussion-Show so ziemlich alles, was ihnen unter die Sticks kommt.
Die bunte Mischung aus bekannten, rythmisch geprägten Bühnenkonzepten wie Blue Man Group, Tapsteel oder Drummers of Yamato, lebt von seiner sehr abwechslungsreichen und großen Bandbreite, sowie den hochprofessionellen Musikern, die ein ungewöhnliches Trommel-Erlebnis nicht ohne Witz, in jeder Hinsicht überaus taktsicher inszenieren. Wie orakelte Gloria Estefan mit ihrer Miami Sound Machine bereits Ende der 80er? The rhythm is gonna get you… tonight!
Mikes Filmwertung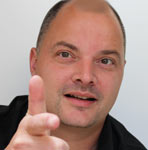 Leserwertung
Cast & Crew
Diese DVD/Blu-ray wurde uns vom Vertrieb Point Music kostenlos zu Rezensionszwecken zur Verfügung gestellt. Unsere Bewertung ist davon jedoch nicht beeinflusst und gibt die unabhängige, persönliche Meinung des jeweiligen Rezensenten wieder.