Ten Minutes Older: The Trumpet / The Cello (2 DVDs)
Schweden | GB | D 2002
FSK: ab 12 Jahren
Länge: ca. 199 Min.
Studio: Road Movies | Odyssey Films
Vertrieb: MC One
Filmzine-Review vom 07.04.2004
In der Kurzfilm-Compilation Ten Minutes beschäftigen sich 15 international renomierte Filmemacher mit dem Thema "Zeit". Das Resultat ist insgesamt eine leicht unbefriedigende Werkschau. Neben wenigen wirklichen Highlights (u.a. Spike Lee, der sich mit dem Wahlbetrug in Florida bei den Präsidentschaftswahlen im Jahre 2000 befasst) überwiegt überraschend viel Langeweile. Einige "Altmeister" (Godard) scheinen mittlerweile sogar jeglichen Kontakt zum Publikum verloren zu haben – dermaßen prätentiös und selbstverliebt gehen sie zu Werke. Jarmusch und Kaurismäki liefern die übliche melancholische Tristesse, während die deutschen Beiträge – abgesehen von Herzogs gutgemeinter Ethno-Doku – zumindest im Ansatz originell sind.

Die Doppel-DVD ist ohne Zweifel sehr schick aufgemacht, besonders das dicke Booklet erfüllt seinen Zweck und bietet etliche Infos zu den einzelnen Shorties und ihren Machern. Weniger gut: ein nicht untertiteltes Making Of mit Regisseuren, die teilweise nur in der Landessprache parlieren (z.B. Tschechisch).
Folgen


Dogs Have No Hell – Aki Kaurismäki


Lifeline – Victor Erice


Ten Thousand Years Older – Werner Herzog


Int. Trailer Night – Jim Jarmusch


Twelve Miles To Trona – Wim Wenders


Histoire Deaux – Bernardo Bertolucci


A Staircase – About Time 2 – Mike Figgis


One Moment – Jiri Menzel


Ten Minutes After – Istvan Szabo


Vers Nancy – Claire Denis


Enlightenment – Volker Schlöndorf


Addicted To The Stars – Michael Radford


Dans Le Noir Du Temps – Jean-Luc Godard


Marcs Filmwertung
15 Kurzfilme zum Thema Zeit – trotz großer Namen nur biederer Durchschnitt.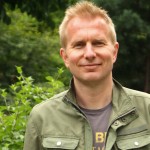 Leserwertung
Cast & Crew
Regie: Aki Kaurismäki, Bernardo Bertolucci, Chen Kaige, Claire Denis, Istvan Szabo, Jean-Luc Godard, Jim Jarmusch, Jiri Menzel, Michael Radford, Mike Figgis, Spike Lee, Victor Erice, Volker Schlöndorff, Werner Herzog, Wim Wenders
Schauspieler: Bibiana Beglau, Chloe Sevigny, Daniel Craig, Dominic West
Musik: Paul Englishby
Produzent(en): Nigel Thomas, Ulrich Felsberg
Diese DVD/Blu-ray wurde uns vom Vertrieb MC One kostenlos zu Rezensionszwecken zur Verfügung gestellt. Unsere Bewertung ist davon jedoch nicht beeinflusst und gibt die unabhängige, persönliche Meinung des jeweiligen Rezensenten wieder.