Terminal – Rache war nie schöner
USA 2018
FSK: ab 16 Jahren
Länge: ca. 96 Min.
Vertrieb: Universum Film
Filmzine-Review vom 24.11.2018
Zwei zankende Auftragskiller (Dexter Fletcher und Max Irons), ein pfeifender Kofferträger (Mike Myers) und ein Lehrer (Simon Pegg) treffen alle in dem Bahnhofs-Diner "The End Of The Line" einer futuristischen Stadt auf die schöne Annie (Margot Robbie). Die mysteriöse Kellnerin zeigt ein auffälliges Interesse an ihren Gästen. Nicht nur das, sie hat auch bereits Kontakt zum gefürchteten Gangsterboss Mr Franklin aufgenommen…
Spätestens seit ihrer hochverdienten Oscar-Nominierung als Eis-Hexe in I, Tonya gehört Margot Robbie zu den momentan gefragtesten Schauspielerinnen in Hollywood. In Terminal – Rache war nie schöner kann man sich von dem Talent der Australierin sogar gleich zweifach überzeugen, doch auch Robbie als doppelte Femme Fatale schafft es nicht, den Film zu retten. Das in gleißendes Neonlicht getauchte Produktionsdesign der namenlosen dystopischen Mega-Stadt sorgt visuell für den einen oder anderen Hingucker, doch Terminal ist unterm Strich mehr Boring City als Sin City oder Dark City. Beonders in der ersten Stunde passiert herzlich wenig, die Dialoge, oft endlos ermüdende Diskussionen über Leben und Tod und nerviges Gestreite der beiden Killer, wirken gestellt. Mit normalerweise sympathischen Nebendarstellern wie Simon Pegg, Dexter Fletcher oder Mike Myers weiß die Regie nichts anzufangen. In der letzten halben Stunde wird das Tempo dann nochmal angezogen und die verschwurbelte Rachegeschichte, die ja bereits im Titel angedeutet wird, wird halbwegs interessant aufgelöst.
Blu-ray Extras:
The Cast of Terminal (6 min)
Building the World of Terminal  (6 min)
Trailer zum Film
Trailer zu 6 weiteren Titeln
Marcs Filmwertung
Neo-Noir-Thriller mit ansprechender Besetzung und schicker Optik aber ohne Spannunsbogen.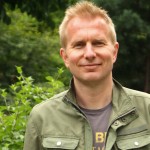 Leserwertung
[Gesamt:6 Durchschnitt: 3.2/5]
Trailer
Cast & Crew
Regie: Vaughn Stein
Schauspieler: Dexter Fletcher, Margot Robbie, Max Irons, Mike Myers, Simon Pegg
Musik: Rupert Gregson-Williams, Anthony Clarke
Produzent(en): David Barron, Teun Hilte, Josey McNamara, Margot Robbie, Molly Hassell, Tom Ackerley