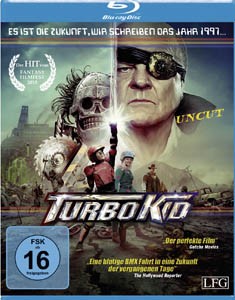 Turbokid
Kanada, Neuseeland 2015
FSK: ab 16 Jahren
Länge: ca. 93 Min.
Studio: EMA Films, Epic Pictures Group, Timpson Films
Vertrieb: Edel: Distribution
Filmzine-Review vom 05.12.2015
Im Jahr 1997 haben nach dem Ende der Zivilisation marodierende Gangs das Sagen und kontrollieren mit äußerster Brutalität die letzten Wasser-Ressourcen. Inmitten dieser Post-Apokalypse schlägt sich ein einsamer Teenager – The Kid (Munro Chambers) – mit Vorliebe für Superheldencomics durch die kargen Landschaften. Eine Begegnung mit dem quirligen Roboter-Girlie Apple (Laurence Laboeuf) hat weitreichende Folgen für den jungen Plünderer. Als Apple von Ober-Tyrann Zeus (Michael Ironside), dem Mörder seiner Eltern, gekidnappt wird, greift The Kid zum Turboblaster und stellt sich dem Bösewicht und seiner Gang…
Auf dem diesjährigen Fantasy Filmfest war Turbo Kid der Publikumsliebling und wurde verdientermaßen mit dem Fresh Blood Award ausgezeichnet. Mit grenzenloser Energie gelingt dem Regie-Trio der kanadisch-neuseeländischen Produktion wahrscheinlich eine der originellsten Trash-Granaten der letzten Jahre. Die liebevolle Hommage an die billigen, zahlreichen Mad Max-Kopien der 80er-Jahre und die fast schon in Vergessenheit geratenen Werke aus dem Hause Troma Entertainment ist wahrlich nicht für die breite Masse konzipiert, für Fans des schlechten Geschmacks aber sicherlich eine Goldgrube. Die Verfolgungsjagden finden auf BMX-Rädern statt, dazu gesellen sich vom Walkman über The Legend of Zelda bis zum Oldschool Synthie-Score  weitere hübsch eingestreute Referenzen an die 80er.Munro Chambers und besonders Laurence Laboeuf als aufgedrehtes und exzentrisches Robotermädchen sind in den Hauptrollen sehr überzeugend und das ewige B-Movie-Raubein Michael Ironside kann seine fiese Visage ebenfalls ein weiteres Mal gewinnbringend einsetzen.
Die Blu-ray/DVD erscheint uncut, wobei der Gore-Faktor trotz diverser Slapstick-Einlagen die FSK-16 Freigabe bis an die Obergrenze ausreizt. Bei den Extras wurde leider ebenso wie bei der lahmen deutschen Synchronisation arg gespart.
Marcs Filmwertung
Gut gelaunter Sci-Fi-Endzeit-Trash mit authentischem 80er-Jahre Retro-Flair.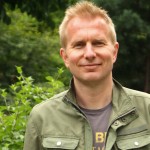 Leserwertung
Trailer
Cast & Crew
Diese DVD/Blu-ray wurde uns vom Vertrieb Edel: Distribution kostenlos zu Rezensionszwecken zur Verfügung gestellt. Unsere Bewertung ist davon jedoch nicht beeinflusst und gibt die unabhängige, persönliche Meinung des jeweiligen Rezensenten wieder.