Live at Wacken 2010 (2 CDs + Blu-ray)
D 2010
FSK: ab 12 Jahren
Länge: ca. 82 Min.
Studio: Wacken Records
Vertrieb: ZYX
Filmzine-Review vom 25.09.2011
Das diesjährige Wacken-Open-Air ist seit einigen Wochen Geschichte und das nächste Jahr wohl bereits voller Vorfreude wieder komplett ausgebucht. Der ideale Zeitpunkt für eine der traditionellen Live at Wacken-Veröffentlichungen vom Vorjahres-Fest. Doch die erstmals in einer CD/BD-Kombi erscheinende 2010er-Compilation kann ihren Vorgängern nicht annähernd das Bier (Verzeihung), Wasser reichen.
Zwar kommen die beiden Audioscheiben gemeinsam auf ansehnliche 30 Tracks, doch da fast jede der Bands mit zwei Songs vertreten ist, fehlen Haudegen und Highlights wie Slayer, Ill Niño, End of Green, Immortal, Mötley Crüe, Soulfly oder Torfrock – um nur einige der unterschlagenen Acts zu nennen.

So richtig bitter wird es allerdings erst auf Disc 3 im Blu-ray-Format. Hier findet sich der 82-minütige spanische Film Road to Wacken, der den erdig-unprätentiösen Geist des Wacken-Festivals ausgerechnet durch die fiktionale Story einer iberischen Girlband, gedreht in highfidelity 3D-Optik(!) einfangen möchte. Ein Unterfangen, das trotz kruder Einstreuung von insgesamt 11 Livemitschnitten an seiner lahmen Story und den seelenlosen Darstellern scheitert. Besonders ärgerlich ist dabei, dass außerdem noch das Blu-ray 3D-Format auf einigen Standard-BD-Abspielern jegliche Wiedergabe (also auch den 2D-Modus) verweigert.
Mikes Filmwertung
Fast schon ein Griff ins Dixie-Klo – an diesem 'Faster-Harder-Louder'-Archivset 2010 dürften nur die allerwenigsten Stammfans ihre Freude haben…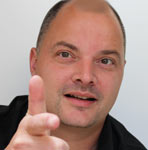 Leserwertung
Diese DVD/Blu-ray wurde uns vom Vertrieb ZYX kostenlos zu Rezensionszwecken zur Verfügung gestellt. Unsere Bewertung ist davon jedoch nicht beeinflusst und gibt die unabhängige, persönliche Meinung des jeweiligen Rezensenten wieder.