Michael Mittermeier – Back To Life (2 DVDs)
D 2002
FSK: ab 6 Jahren
Länge: ca. 157 Min.
Studio: DoRo | Rocket Studios
Vertrieb: Sony Music
Filmzine-Review vom 06.11.2002
Er gehört zu den unangefochten Stand Up-Größen der deutschen Comedy-Szene: Michael Mittermeier. Mit nunmehr fünfzehn Jahren Bühnenerfahrung und trotz des großen kommerziellen Erfolgs seiner bisherigen Programme (u.a. Zapped – Ein TV-Junkie knallt durch) bewegt sich die Qualität seiner Shows noch immer auf höchstem Niveau. Denn Mittermeier kommt ohne plumpen Slapstick oder Brechstangenhumor aus. Er präsentiert intelligente Unterhaltung, demaskiert den Wahnsinn in elementaren Themen unserer Zeit, regt zum Mitdenken an und beweist einmal mehr sein geschultes humoristisches Auge auch für die vermeintlichen Banalitäten des Alltags.

Der im Berliner Tempodrom aufgezeichnete Mitschnitt von Back To Life bietet mit seiner beeindruckenden Laufzeit von mehr als zweieinhalb Stunden bei guter technischer Umsetzung und gelungener Regieleistung ein intensives Live-Erlebnis – was bei einem publikumsnahen Künstler wie Mittermeier auch im Wohnzimmersessel für den besonderen Kick sorgt.
Zur Referenz-Scheibe in Sachen Comedy wird Back To Life aber nicht zuletzt dank der unglaublichen "Mörder Bonus DVD". Hier gibt es in weiteren drei Stunden(!) Zusatzmaterial ohne Ende. Als Highlights sind u.a. die Musikvideos und Auftritte des "Mittermeier & Friends"-Projekts (inkl. fetten Entstehungsdokus), seine Performance vor 40.000 Zuschauern bei "Rock im Park", diverse TV-Interviews (u.a. mit Biolek, Raab, Kavka), Outtakes und ein von Michl persönlich moderiertes "Making of" hervorzuheben. Genial auch die "interaktive", sprechende und abwechslungsreiche Menüpräsentation auf beiden DVDs.
Mikes Filmwertung
Unterhaltung mit Masse und Klasse – ein Comedy-Pflichtkauf!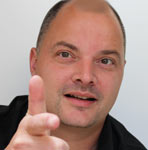 Leserwertung