The Girl with all the Gifts
UK 2017
FSK: ab 16 Jahren
Länge: ca. 112 Min.
Studio: Poison Chef | BFI Film Fund | Altitude Film Entertainment | Creative England
Vertrieb: Universum Film
Filmzine-Review vom 12.07.2017
The Girl with all the Gifts gehört zu jener Sorte Film, die umso besser funktionieren, je weniger man vorab von ihnen weiß.
Nein, nicht aufhören zu lesen! Das lässt sich eleganter lösen. Ich verzichte an dieser Stelle einfach auf die sonst übliche Story-Einleitung und schon sind wir auf der richtigen Spur und wachen in einer gut gesicherten Gefängniszelle inmitten einer Dystopie auf, in der die Menschheit durch eine mysteriöse Pilzkrankheit an den Rand ihrer Existenz gedrängt ist. Doch es ist nicht alles verloren, noch gibt es Hoffnung, die fleischgierenden "Hungries" zu überleben.
Eine solch offensichtliche Kombination aus Zombie-Thema und philosophischem Drama gab es im Horror-Genre selten. Natürlich gehören Was-wäre-wenn-Gedankenspiele und gesellschaftliche Psychogramme ein Stück weit zu jedem gelungenen Post-Apokalypse-Setting. Doch die auf dem gleichnamigen Buch von Mike Carey basierende Romanverfilmung fängt den in The Girl with all the Gifts allgegenwärtigen Perspektivwechsel auf eine sehr vereinnahmende und überzeugende Art ein und öffnet so völlig neue Sichtweisen.
Die dichte und fesselnde Atmosphäre der ersten Filmhälfte löst sich zum Ende hin zwar mehr und mehr in dem ein oder anderen erzählerischen Schwachpunkt auf, aber dank der sensationell agierenden Hauptdarstellerin Sennia Nanua als das Mädchen Melanie verliert man zu keinem Zeitpunkt den emotionalen Bezug zur Geschichte. Neben der bereits für ihre Rolle im Kurzfilm Beverly mit viel Lob überschütteten Jungschauspielerin wirken selbst Gemma Arterton (Ein Quantum Trost), Paddy Considine (Das Bourne Ultimatum) und Grand Dame Glenn Close lediglich wie nette Ergänzungen.
Auch wenn man der Produktion ihren nicht gerade überbordenden Etat hier und da ansieht, ist The Girl with all the Gifts ein dichter, interessanter und komplexer Beitrag zur großen Z-Familie geworden, den man auch außerhalb der Genre-Allesgucker als kleinen, aber feinen Geheimtipp empfehlen kann.
Mikes Filmwertung
Hungrig auf einen Zombiefilm der etwas anderen Art? Bitte sehr, greift zu und lasst es Euch schmecken…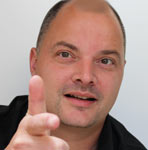 Leserwertung
[Gesamt:6 Durchschnitt: 4.2/5]
Cast & Crew
Themen/Keywords
Apokalypse, Dystopie, Zombies

Diese DVD/Blu-ray wurde uns vom Vertrieb Universum Film kostenlos zu Rezensionszwecken zur Verfügung gestellt. Unsere Bewertung ist davon jedoch nicht beeinflusst und gibt die unabhängige, persönliche Meinung des jeweiligen Rezensenten wieder.