Eloy – The Legacy Box
D 2010
FSK: ohne Altersbegrenzung
Länge: ca. 215 Min.
Studio: Artist Station Records
Vertrieb: Soulfood
Filmzine-Review vom 26.01.2011
Nicht zuletzt durch ihre großen Erfolge Ende der Siebziger zählte die aus dem niedersächsischen Hannover stammende Progressive-Rock Band Eloy mit ihren berühmt-berüchtigten psychedelisch-hypnotischen Soundsphären zu den bekanntesten heimischen Vertretern ihrer Zunft.

Auf der vorliegenden, im Nachgang zum 40-jährigen Gründungsjubiläum erschienenen Doppel-DVD Eloy – The Legacy Box begibt sich die anspruchsvoll produzierte Doku \"Mighty Echoes – The Story of Eloy\" auf eine Zeitreise durch alle Schaffensphasen des Projekts um Frontmann und Gründer Frank Bornemann, bei der zahlreiche ehemalige wie aktuelle Mitglieder und Weggefährten zu Wort kommen.

Silberling Nummer zwei konzentriert sich hingegen ausschließlich auf Augen und Ohren und gibt die Geschichte der Band in insgesamt 19 Clips von der Krautrock-Ära bis in die Jetzt-Zeit wieder. Für Fans insgesamt sicher eine Perle voller Erinnerungen und Raritäten.
Mikes Filmwertung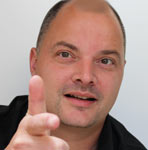 Leserwertung
Cast & Crew
Diese DVD/Blu-ray wurde uns vom Vertrieb Soulfood kostenlos zu Rezensionszwecken zur Verfügung gestellt. Unsere Bewertung ist davon jedoch nicht beeinflusst und gibt die unabhängige, persönliche Meinung des jeweiligen Rezensenten wieder.