R.E.M. by MTV
USA 2014
FSK: ab 0 Jahren
Länge: ca. 107 Min.
Studio: Viacom Music Group
Vertrieb: Warner Music Group
Filmzine-Review vom 05.08.2015
"Remember Every Moment". Was für Michael Stipes Großmutter liebevolle Lebensweisheit und ihr ganz persönliches Synonym für R.E.M. war, ist für Filmemacher Alex Young sprichwörtliches Programm. Aus schier endlosen Stunden Archivmaterial, das sich über ganze 30 Jahre erstreckt, fügt Young ein dokumentarisches Mosaik zusammen, wie es beeindruckender und authentischer kaum hätte ausfallen können.
Wenige Wochen, nachdem die junge Collegeband R.E.M. im Juli 1981 ihre Debütsingle "Radio Free Europe" veröffentlichte, ging der TV-Kanal mit dem großen M erstmals auf Sendung und erkannte früh das Potenzial der vier Alternative-Rocker aus Athens (Georgia). In den Folgejahren entwickelten sich Michael Stipe, Peter Buck, Mike Mills und Bill Berry vom musikalischen Geheimtipp und gefeierten Live-Act zu einer der ganz großen Bands, die mit ihren Alben "Out of Time", 1991 (u.a. "Losing My Religion") und "Automatic for the People", 1992 (u.a. "Drive", "Everybody Hurts", "Man on the Moon") zu Superstars der Neunziger avancierte, danach mit "Monster", 1994 und "New Adventures in Hi-Fi" Fans wie Kritiker begeisterte und sich 2011 nach 15 Studioalben mit "Collapse into Now" auflöste und von der Bühne verabschiedete. Dabei stets mit Kamera, Awards und Interviews in der Nähe: MTV.
Glücklicherweise liegt der Fokus in dieser tollen Musikdokumentation jedoch unumstößlich auf den Künstlern und verkommt, obwohl von MTV/Viacom konzipiert und produziert, an keiner Stelle zur Sender-Selbstbeweihräucherung.
R.E.M. BY MTV gelingt das grandiose Kunststück, Stipe, Buck, Mills und Berry, ihre History in eigenen Worten erzählen zu lassen, so als ob sie gerade passieren würde. Ohne Zeit und Raum, in gefühltem Liveflair, fügen sich zahlose Interviewschnipsel, Konzert- und Videoaufnahmen zu einer Reise durch dreißig Jahre R.E.M. mit allen Höhen, Tiefen und kantigen Besonderheiten. Ein intimes Erlebnis und berührendes Zeitdokument, das auch musikalische Skeptiker von der außergewöhnlichen Geschichte der Band überzeugen dürfte.
Mikes Wertung
In gefühlter Echtzeit mit R.E.M. durch dreißig Jahre Musikgeschichte – ein Ride, den Ihr nicht verpassen solltet.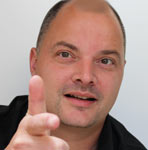 Leserwertung
Trailer
Cast & Crew
Themen/Keywords
Banddoku, Musikdoku

Diese DVD/Blu-ray wurde uns vom Vertrieb Warner Music Group kostenlos zu Rezensionszwecken zur Verfügung gestellt. Unsere Bewertung ist davon jedoch nicht beeinflusst und gibt die unabhängige, persönliche Meinung des jeweiligen Rezensenten wieder.